Calendar Year 2016
The New Choral Singers presented the 19th edition of 'Musical Tidings'
an evening of Christmas carols and festive favourites
presented in association with Lions Club Sliema.
Wayne Marshall – Conductor and Organist
Tuesday 13 December 2016 – St. Paul's Anglican Cathedral, Valletta
Friday 16 December 2016 – St. Publius Parish Church, Floriana
Under the musical guidance of Shirley Helleur the Choir prepared a varied repertoire of ever-green Christmas carols that appealed to audiences of all ages. In the spirit of the season, the audience was invited to join the choir in song for a couple of traditional favourites.
A retiring collection was held in aid of Malta Guide Dogs Foundation,
Helen Keller Foundation Malta and Ursuline Creche
With the kind support of: Copyclub, Jaguar Landrover, the Malta Broadcasting Authority, Red Box Advertising, Volkswagon, and 389 Company Ltd.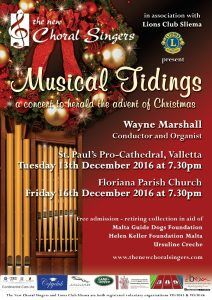 ---
The New Choral Singers in association with Hilltop Gardens proudly presented:
LIGHTS! CAMERA! SINGERS!
Music from La Scala to Broadway
Under the patronage of Her Excellency, Marie-Louise Coleiro Preca, President of Malta
Wayne Marshall (Conductor)
Irina Fedcenko (Pianist)
Shirley Helleur (Pianist/Resident Conductor)
Albert Buttigieg (Bass)
The open air concert held at The Crescent pool area of Hilltop Gardens, presented a celebration of musical sound tracks from screen and stage.
The singers performed a carousel of musical delights ranging from popular arias such as the famous 'Toreador Song' from the opera 'Carmen', and much loved music from movies and musicals such as 'Moon river' from 'Breakfast at Tiffany's'.
Apart from directing the choir, world acclaimed Wayne Marshall also played an improvisation on themes from 'West side story' by Leonard Bernstein.
A free collection was held in aid of The Malta Community Chest Fund.
The event was held in association with Hilltop Gardens and with the kind support of Frank Salt Real Estate and Floreal.

---
Closing Concert – International Spring Orchestra Festival 2016

Mediterranean Conference Centre
Saturday, 9 April 2016
Conductor: Brian Schembri
Soloists: Lucia Micallef (piano), Claire Debono (soprano)
Choir: The New Choral Singers
Programme:
Conil: Ariane et Dionysos
Prokofiev: Symphony No.7
Karl Fiorini: Of Gods and Dogs
Beethoven: Choral Fantasy Op. 80