Calendar Year 2012
'Musical Tidings'
a concert to herald the advent of Christmas
Siggiewi Parish Church – Thursday, 13th December 2012 at 7:30pm
Gharghur Parish Church – Wednesday, 19th December 2012 at 7:30pm
Choir director – Robert Calleja
Accompanists – Irina Fedcenko-Carbonaro & Shirley Helleur
Entrance is free of charge. Donations in aid of Dar San Guzepp (home for boys) will be greatly appreciated.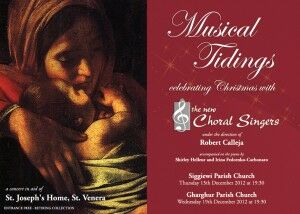 ---
Saturday, 27th October 2012
St. Mark's Priory, Rabat (Malta)
The Choir presented
a concert of Sacred Music 'a cappella'
This concert was held in the historic and intimate surroundings of the Piano Nobile of St. Mark's Priory – home to the Augustinian friars – which was opened to the public for this singular event.
The programme of sacred works performed was entirely a cappella and included music penned in by Palestrina, Victoria, Rachmaninov, Whitacre, and Fr. Albert Borg OSA (ex Maestro di Cappella of the Mdina Cathedral).
Without any doubt the highlight of the evening's programme was the 'Miserere' by Gregorio Allegri, which was originally composed for exclusive use in the Sistine Chapel during the celebrations of Holy Week in 1630 circa. This piece is written for two choirs, and the music alternates from the original Miserere chant to polyphonic sections sung by the two different choirs.
This concert was held in aid of restoration works taking place at the Priory.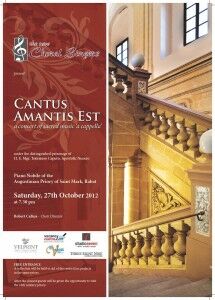 ---
Sunday 24th June, 2012
Parish of the Annunciation, Balzan
The Choir presented a concert of Sacred Music
in aid of the restoration of the
paintings by Profs. Emvin Cremona
that are housed in the Church.
The repertoire for this concert has been aptly selected
to match the tone and pace of the summer season,
characterised by the warmth of the works of great composers
such as Elgar, Franck and Goodall.
Robert Calleja – Choir director
Alexandra Scicluna – Mezzo soprano
Irina Fedcenko-Carbonaro & Shirley Helleur – Piano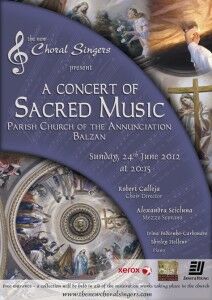 ---
Saturday 24 March, 2012
Manoel Theatre, Valletta
On the 150th anniversary of the foundation
of the Peace Band Club of Naxxar,
the Choir together with the Band performed
the world premiere of the Cantata
'L-Ghanja tal-Paci'.
The music was composed for the occasion by Karl Fiorini,
whilst the text has been set by Rev. Richard Borg.